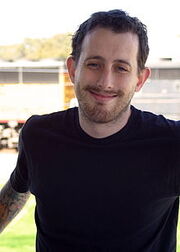 Geoff Ramsey is the co-founder of Achievement Hunter , as well as a host/participant in many of their shows.
Geoff first started at RoosterTeeth in 2003 (before the company was officially created). He voiced Private Grif in Red vs Blue, and also appeared on various RoosterTeeth shows. Geoff founded Achievement Hunter in 2006 with Jack Pattillo. He appears on most of the company's shows, as well as still doing many RoosterTeeth shows, their Podcast, and attends many gaming events.
Geoff has appeared in more series than any other AH employee, other than Jack.
Ad blocker interference detected!
Wikia is a free-to-use site that makes money from advertising. We have a modified experience for viewers using ad blockers

Wikia is not accessible if you've made further modifications. Remove the custom ad blocker rule(s) and the page will load as expected.