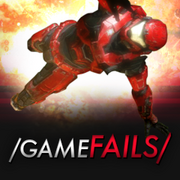 Game Fails is an Achievement Hunter series in which fails in various games are presented.
Halo Reach
GTA IV
Fails of the Year 2011
March 2012
April 2012
May 2012
June 2012
July 2012
August 2012
September 2012
October 2012
November 2012
December 2012
Fails of the Year 2012
January 2013
February 2013
Return of the Suprise Commentaries
March 2013
Free Vasectomys
Happy Times
FIFA
Best of Car Problems
April 2013
Accidental Wins
Shots to the Head
Bring the Pain
May 2013
Nailed it!
Top 5 Crunch
June 2013
Early Days of Game Fails
July 2013
Early Days of Game Fails Part 2
Ad blocker interference detected!
Wikia is a free-to-use site that makes money from advertising. We have a modified experience for viewers using ad blockers

Wikia is not accessible if you've made further modifications. Remove the custom ad blocker rule(s) and the page will load as expected.