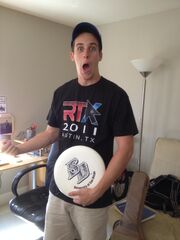 Caleb Thomas Denecour is an employee of Achievement Hunter. He is 24 and resides in Austin, TX.
Personal Life
Edit
Caleb is originally from California, and has lived in Italy, Colorado, and Texas. While many believe his family was killed by Ray, they are in fact all still living. His younger brother is Jordan. He is colorblind. He played the clarinet as a young boy, enjoyed playing football, wrestling, and running. He now spends most of his time working and playing ultimate Frisbee. 
Achievement Hunter Career
Edit
Participated in various Let's Plays, especially some early episodes of Let's Play Minecraft
Co-hosts Game Night
Ad blocker interference detected!
Wikia is a free-to-use site that makes money from advertising. We have a modified experience for viewers using ad blockers

Wikia is not accessible if you've made further modifications. Remove the custom ad blocker rule(s) and the page will load as expected.